On a weekly basis we will be publishing in this section books and reports on the art market.
Follow us on Instagram for updates.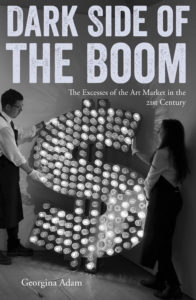 1
"Dark Side of the Boom: The Excesses Of The Art Market In the 21 Centry"
Georgina Adam
Lund Humphries, 2017
This book scrutinizes the excesses and extravagances that the 21st-century explosion of the contemporary art market brought in its wake. The buying of art as an investment, temptations to forgery and fraud, tax evasion, money laundering and pressure to produce more and more art all form part of this story, as do the upheavals in auction houses and the impact of the enhanced use of financial instruments on art transactions. Drawing on a series of tenaciously wrought interviews with artists, collectors, lawyers, bankers and convicted artist forgers, the author charts the voracious commodification of artists and art objects, and art's position in the clandestine puzzle of the highest echelons of global capital. Adam's revelations appear even more timely in the wake of the Panama Papers revelations, for example incorporating examples of the way tax havens have been used to stash art transactions – and ownership – away from public scrutiny. With the same captivating style of her bestselling Big Bucks: The Explosion of the Art Market in the 21st Century, Georgina Adam casts her judicious glance over a section of the art market whose controversies and intrigues will be of eye-opening interest to both art-world players and observers.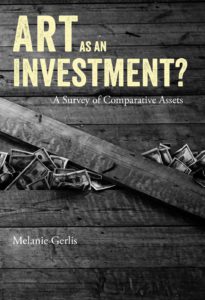 2
"Art as an Investment – A Survey of Comparative Assets"
Melanie Gerlis
Lund Humphries, 2014
Aimed at collectors and investors, this user-friendly guide explains art's value as an asset through comparisons with more familiar investments, including property, shares and gold. It draws on extensive research and interviews with key players in these other markets, as well as the author's own experience, to clarify the specifics of art as an asset class. This timely book considers the growing importance attributed to art as an investment, testing the validity of claims about art's capacity to generate returns that outweigh its risks. It offers jargon-free explanations of how the characteristics of blue-chip art can be seen to coincide with and diverge from the fundamental features of more established types of asset. Key issues addressed include the role of subjectivity in the perception of value; the failure of attemps to establish stock markets for art; the risks and shortcomings of art funds; banks' reluctance to lend against art; and the art world's distaste for selling and speculation. This thorough but accessible text from a respected art-market professional is essential reading for art investors and prospective art investors.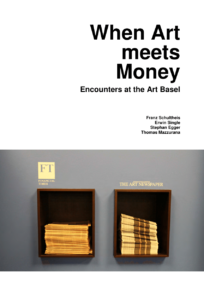 3
"When Art meets Money – Encounters at the Art Basel"
Stephan Egger + Thomas Mazzurana + Franz Schultheis + Erwin Single
Walther König, 2015
Art Basel is more than just a fair in the commercial sense of the word, more than a concentrated gathering of dealers offering their goods for sale to interested buyers. It is the site of display of holy goods in the presence of thousands and thousands of believers, a mecca for the ritualized adoration of modern and contemporary art. It is also the decisive witness of the upheaval marking a radical change in the relationship between art and money, with all of the consequences–not least, the evaluation of what is to be regarded as "genuine" art. When Art Meets Money offers a sociological study in the vein of Pierre Bourdieu, the result of several years of field work, attempting to draw a picture of this change as perceived by the participants, fair organizers, gallerists, collectors, curators, art consultants and artists as a central problem of the contemporary art scene.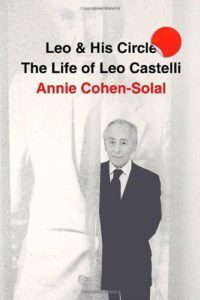 4
"Leo & His Circle – The Life of Leo Castelli"
Annie Cohen-Solal
Alfred A. Knopf, 2010
Leo Castelli reigned for decades as America's most influential art dealer. Now Annie Cohen-Solal, author of the hugely acclaimed Sartre: A Life ("an intimate portrait of the man that possesses all the detail and resonance of fiction"–Michiko Kakutani, The New York Times), recounts his incalculably influential and astonishing life in Leo and His Circle. After emigrating to New York in 1941, Castelli would not open a gallery for sixteen years, when he had reached the age of fifty. But as the first to exhibit the then-unknown Jasper Johns, Castelli emerged as a tastemaker overnight and fast came to champion a virtual Who's Who of twentieth-century masters: Rauschenberg, Lichtenstein, Warhol, and Twombly, to name a few. The secret of Leo's success? Personal devotion to the artists, his "heroes" by putting young talents on stipend and seeking placement in the ideal collection rather than with the top bidder, he transformed the way business was done, multiplying the capital, both cultural and financial, of those he represented. His enterprise, which by 1980 had expanded to an impressive network of satellite galleries in Europe and three locations in New York, thus became the unrivaled commercial institution in American art, producing a generation of acolytes, among them Mary Boone, Jeffrey Deitch, Larry Gagosian, and Tony Shafrazi.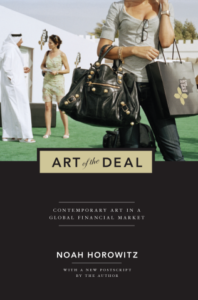 5
"Art of the Deal – Contemporary Art in a Global Financial Market"
Noah Horowitz
Princeton University Press, 2011
Art today is defined by its relationship to money as never before. Prices have been driven to unprecedented heights, conventional boundaries within the art world have collapsed, and artists think ever more strategically about how to advance their careers. Art is no longer simply made, but packaged, sold, and branded. In Art of the Deal, Noah Horowitz exposes the inner workings of the contemporary art market, explaining how this unique economy came to be, how it works, and where it's headed. In a new postscript, Horowitz reflects on the evolution of the trade since the book's original release in 2011, shining light on the market's continued ascent as well as its most urgent challenges.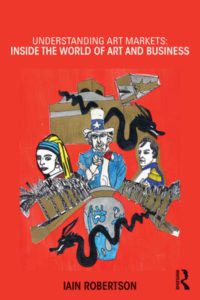 6
"Understanding Art Markets: Inside the world of art and business"
Iain Robertson
Routledge, 2015
The global art market has recently been valued at close to $50bn—a rise of over 60% since the global financial crisis. These figures are driven by demand from China and other emerging markets, as well as the growing phenomenon of the artist bypassing dealers as a market force in his/her own right. This new textbook integrates, updates and enhances the popular aspects of two well-regarded texts – 'Understanding International Arts Markets' and 'The Art Business'. Topics covered include: Emerging markets in China East Asian, South East Asian, Brazilian, Russian, Islamic and Indian art, Art valuation and investment, Museums and the cultural sector.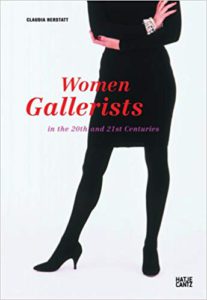 7
"Women Gallerists: In the 20th and 21st Centuries"
Claudia Herstatt
Hatje Cantz, 2009
With the exception of Peggy Guggenheim, little has been written by or about the astonishingly influential women who have built their careers around art and artists. In a selection of 30 portraits, this book presents three generations of women who have pursued their ambitions in the gallery business, starting with the pioneers and the established and leading up to the new generation. They include: Juana de Aizpuru, Helga de Alvear, Ilona Anhava, Catherine Bastide, Ellen de Bruijne, Chantal Crousel, Sorcha Dallas, Barbara Gladstone, Antonina Gmurzynska, Marian Goodman, Bärbel Grässlin, Karin Guenther, Annely Juda, Atsuko Koyanagi, Ursula Krinzinger, Pearl Lam, Hyunsook Lee, Michele Maccarone, Giti Noubakhsch, Maureen Paley, Eva Presenhuber, Janelle Reiring, Denise René, Rosemarie Schwarzwälder, Elena Selina, Suzy Shammah, Filomena Soares, Ileana Sonnabend, Monika Sprüth/Philomene Magers, Luisa Strina and Helene Winer.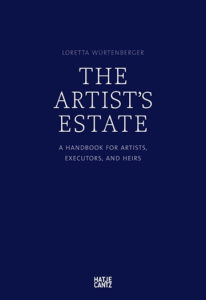 8
"The Artist's Estate: A Handbook for Artists, Executors, and Heirs"
Loretta Würtenberger
Hatje Cantz, 2016

Andy Warhol memorably said that 'death can really make you look like a star,' but death in itself is not a guarantee of the relevance of an artist. What is of crucial importance is the proper management structure for the posthumous preservation and development of an artist's estate. The Artist's Estate presents the possible legal frameworks and appropriate financing models available in this situation, as well as the proper handling of interest from the market, museums and academia. (….) Based on numerous international examples, the author explains the different alternatives for maintaining an artist's estate and makes recommendations on how best to handle work, archives and ephemera following the death of an artist.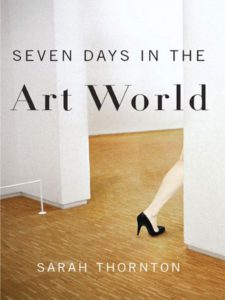 9
"Seven Days in the Art World"
Sarah Thornton
Granta Books, 2009
Contemporary art has become a mass entertainment, a luxury good, a job description and, for some, a kind of alternative religion. Sarah Thornton's shrewd and entertaining fly-on-the-wall narrative takes us behind the scenes of the art world, from art school to auction house, showing us how it works, and giving us a vivid sense of being there.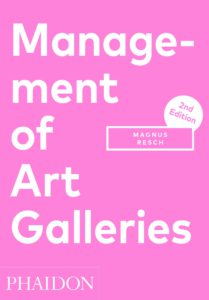 10
"Management of Art Galleries"
Magnus Resch
Phaidon Press, 2016
The art world is tough, the rules are a mystery, and only the lucky few make money, so how can galleries succeed? What makes a commercial art gallery successful? How do galleries get their marketing right? Which potential customer group is the most attractive? How best should galleries approach new markets while still serving their existing audiences? Based on the results of an anonymous survey sent to 8,000 art dealers in the US, UK, and Germany, Magnus Resch's insightful examination of the business of selling art is a compelling read that is both aspirational and practical in its approach.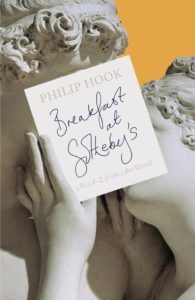 11
"Breakfast at Sotheby's: An A-Z of the Art World"
Philip Hook
Particular Books, 2013

Breakfast at Sotheby's is a wry, intimate, truly revealing exploration of how art acquires its financial value, from Philip Hook, a senior director at Sotheby's. When you stand in front of a work of art in a museum or exhibition, the first two questions you normally ask yourself are 1) Do I like it? and 2) Who's it by? When you stand in front of a work of art in an auction room or dealer's gallery, you ask these two questions followed by others: how much is it worth? How much will it be worth in five or ten years' time? and what will people think of me if they see it hanging on my wall? Breakfast at Sotheby's is a guide to how people reach answers to such questions, and how in the process art is given a financial value. (…) Comic, revealing, piquant, splendid and absurd, Breakfast at Sotheby's is a book of pleasure and intelligent observation, as engaged with art as it is with the world that surrounds it.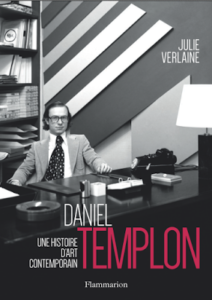 12
"Daniel Templon. Une Historie d'Art Contemporain"
Julie Verlaine
Flammarion, 2016
Daniel Templon opened his gallery in April 1966, when New York and American art made its debut in the world of French art. He became a defender of avant-garde artists and emerging French painters and reinvented the merchant profession. The program of his gallery reflects the profound changes of contemporary art, but also of its artists, critics, merchants and collectors over the last fifty years. This historical survey puts in its artistic, economic and political context the journey of a French art dealer emblematic of his generation, immersed in the heart of artistic creation and privileged witness of the transformations of the world of art. Julie Verlaine's essay is enriched by the words of Daniel Templon who narrates his encounters with the greatest contemporary artists (Donald Judd and Carl Andre, Andy Warhol and Roy Lichtenstein, Frank Stella and Ellsworth Kelly, Helmut Newton, Jean-Michel Basquiat, Arman, Ben, Daniel Buren, Caesar, Gerard Garouste, Jean-Michel Alberola…) while describing the backstage of the French art scene.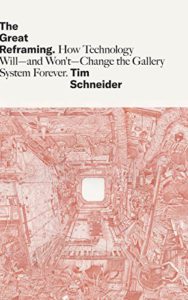 13
"The Great Reframing. How Technology Will—and Won't—Change the Gallery System Forever"
Tim Schneider
Kindle, 2017
In recent years, observers and participants alike have passionately debated technology's prospects for altering the art industry, particularly the contemporary-gallery sector. By revealing the secretive and counterintuitive dynamics of the 21st-century art market as only a veteran of the industry can, Tim Schneider unpacks how and why this unique space dismantles many of digital innovation's most dependable weapons of disruption. And by elucidating tech's winner-takes-all effects on earlier-adopting cultural sectors like pop music and film, he foreshadows the unintended (and unsettling) consequences that e-commerce, data science, and other advancements are likely to unleash on a largely unsuspecting art industry. Through this double-barreled approach, The Great Reframing blasts open the debate about how—and how much—contemporary artists, gallerists, and professionals alike need to evolve if they want to avoid being herded onto the industry's scrap heap in the years to come, beginning right now.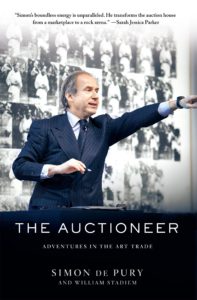 14
"The Auctioneer – Adventures in the Art Trade"
Simon de Pury
St. Martin's Press, 2016
Just as William Goldman, the ultimate screenwriter, took us inside Hollywood, Simon de Pury, the ultimate art player, will take us inside an even more secretive business, whose staggering prices, famous collectors, and high crimes are front page news almost every day. The former Chairman of Sotheby's Europe, the former owner of Sotheby's rival Phillips de Pury, and currently a London-based dealer and advisor to great collectors around the world, Simon has one of the highest profiles of any non-artist in the art world. Even though he has an ancient title and the aura of an elegant Swiss banker, Simon is famous as an iconoclast and is known as "The Mick Jagger of Auctions" for his showmanship and exuberance. His whole life in art has been devoted to bringing art to the public and to the juxtaposition of high and low. Movie stars, musicians, and athletes compete with hedge funders and billionaires for the great art, and Simon is their pied piper; he wants to turn the world onto art and this book will be his message.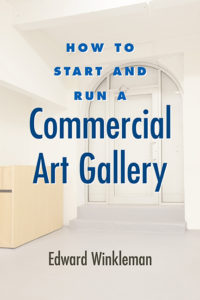 15
"How to Start and Run a Commercial Art Gallery"
Edward Winkleman
Allworth Press, 2009
This is a comprehensive and practical guide to everything you need to know to set up and run your own commercial art gallery. The art industry is highly respected and enjoys a high profile the world over, but the day-to-day business operations of a successful gallery remain a mystery to many. As individual as those that own them, most galleries grow organically as practices are learned on the job or innovated over time. While there are some generally agreed-upon industry standards as to how a gallery should be run, there are very few hard and fast rules. This comprehensive volume is designed to demystify the day-to-day tasks involved in running a commercial gallery. Divided into two sections – covering the steps involved in setting up, and what's involved in running a gallery – this book successfully combines a sound business approach with a recognition of the importance of passion and individuality in making a gallery a successful venture.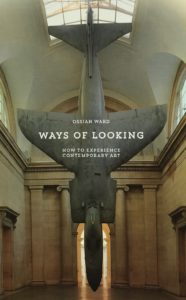 16
"Ways of Looking: How to Experience Contemporary Art"
Ossian Ward
Laurence King Publishing, 2014
This book provides a straightforward guide to understanding contemporary art based on the concept of the tabula rasa—a clean slate and a fresh mind. Ossian Ward presents a six-step program that gives readers new ways of looking at some of the most challenging art being produced today. Since artists increasingly work across traditional media and genres, Ward has developed an alternative classification system for contemporary practice such as 'Art as Entertainment', 'Art as Confrontation', 'Art as Joke' — categories that help to make sense of otherwise obscure-seeming works. There are also 20 'Spotlight' features which guide readers through encounters with key works. Ultimately, the message is that any encounter with a challenging work of contemporary art need not be intimidating or alienating but rather a dramatic, sensually rewarding, and thought-provoking experience.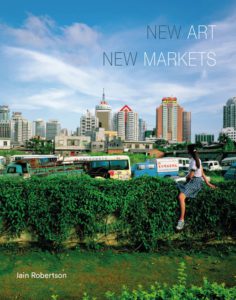 17
"New Art, New Markets"
Iain Robertson
Lund Humphries, 2018
Originally published in 2011, Iain Robertson's A New Art from Emerging Markets introduced and examined three types of emerging markets for contemporary art: the very recently established, the maturing and the mature. This fully revised second edition not only updates the reader on this rapidly evolving market, but also adds important new sections on South America—focusing on Brazil, Mexico, Colombia and Cuba—on Nigeria, South Africa and Qatar. Besides the temporal aspect, it discusses how size and speed of growth provide other means of establishing where the market is placed. As well as providing a survey of emerging art markets throughout the world, the book is concerned with looking at how value in non-Western contemporary art is constructed largely by external political events and economic factors rather than aesthetic considerations. The book also considers whether it is better to let a new art market grow organically, driven by commercial imperatives, or for the government to step in to construct a cultural and economic infrastructure within which an art market can be placed. Written accessibly and engagingly, the book presents emerging art-market scenarios that offer the collector, investor, speculator, observer and culturally interested individual an insight into where the new markets are and how they are likely to develop.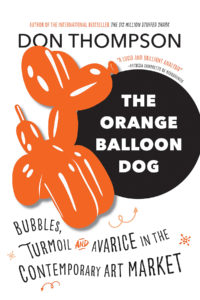 18
"The Orange Balloon Dog: Bubbles, Turmoil and Avarice in the Contemporary Art Market"
Don Thompson
Douglas & McIntyre, 2017

Within forty-eight hours in the fall of 2014, buyers in the Sotheby's and Christie's New York auction houses spent $1.7 billion on contemporary art. Non-taxed freeport warehouses around the globe are stacked with art held for speculation. One of Jeff Koon's five chromium-plated stainless steel balloon dogs sold for 50 per cent more at auction than the previous record for any living artist. A painting by Christopher Wool, featuring four lines from a Francis Ford Coppola movie stencilled in black-on-a-white background, sold for $28 million. In The Orange Balloon Dog, economist and bestselling author Don Thompson cites these and other fascinating examples to explore the sometimes baffling activities of the high-end contemporary art market. He examines what is at play in the exchange of vast amounts of money and what nudges buyers, even on the subconscious level, to imbue a creation with such high commercial value. Thompson analyses the behaviours of buyers and sellers and delves into the competitions that define and alter the value of art in today's international market, from New York to London, Singapore to Beijing. Take heed if your millions are tied up in stainless steel balloon dogs Thompson also warns of a looming bust of the contemporary art price balloon.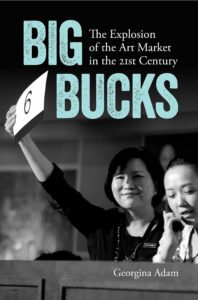 19
"Big Bucks – The Explosion of the Art Market in the 21st Century"
Georgina Adam
Lund Humphries, 2014
This highly readable and timely book explores the transformation of the modern and contemporary art market from a niche trade to a globalised operation worth an estimated $50 billion a year. Drawing on her personal experience, Georgina Adam describes in fascinating detail the contributions made by a range of people and institutions to these recent development of auction houses into globalized, often cut-throat 'art business' firms; the emergence and modi operandi of mega-dealers and middlemen; the new frontier of selling art on the internet; the radical changes in the profile of art collectors; the phenomenon of the branded artist and the explosion of art fairs. It addresses the negative side to the art market's expansion, particulary its lack of transparency and light regulation. Engagingly written, this informative text will be ideal for collectors, students, and anyone interested in learning more about the evolution of the unprecedented market for art which exists today.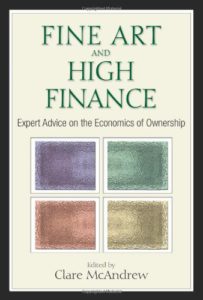 20
"Fine Art and High Finance: Expert Advice on the Economics of Ownership"
Clare McAndrew
Bloomberg Press, 2010
Art and finance coalesce in the elite world of fine art collecting and investing. Investors and collectors can't protect and profit from their collections without grappling with a range of complex issues like risk, insurance, restoration, and conservation. They require intimate knowledge not only of art but also of finance. Clare McAndrew and a highly qualified team of contributors explain the most difficult financial matters facing art investors. Key topics include: appraisal and valuation, art as loan collateral, securitization and taxation, investing in art funds, insurance and the black-market art trade.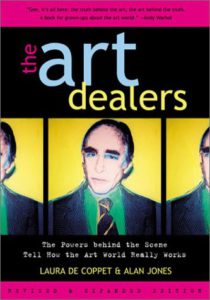 21
"The Art Dealers, Revised & Expanded: The Powers Behind the Scene Tell How the Art World Really Works"
Laura De Coppet + Alan Jones
Cooper Square Press, 2002
The Art Dealers sheds new light on what people in the business of art do, what skills they rely on, and how dealers have changed modern ideas of what art is. Major figures from the past five decades of art dealership speak out in this collection of in-depth interviews, discussing their relationships with artists and revealing the significant role dealers play in establishing artists' careers. Included are interviews with legends like Betty Parsons, who early on brought the works of Jackson Pollock and Mark Rothko to the public, and Leo Castelli, who championed Roy Lichtenstein, Robert Rauschenberg, and Andy Warhol. Also having their say are more contemporary dealers such as Mary Boone and Annina Nosei, both of whom helped start the careers of Julian Schnabel and Jean Michel Basquiat. The dealers hold forth on their individual enthusiasms for art, the economics and psychology of selling art, the trends the art world has seen since World War II, and much more. The candid interviews reveal gossip, rivalries, and some closely guarded professional secrets.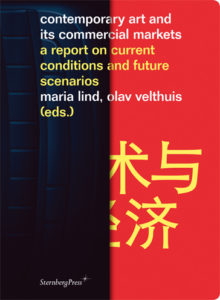 22
"Contemporary Art and Its Commercial Markets. A Report on Current Conditions and Future Scenarios"
Olav Velthuis & Maria Lind (eds.)
Sternberg Press, 2012
Contemporary Art and Its Commercial Markets. A Report on Current Conditions and Future Scenarios maps and analyses the complex and contested entanglements of contemporary art and its commercial markets. Contemporary art as an asset category and celebrity accessory, the rise of the art fair, and the increased competition of auction houses are among the phenomena, which are discussed by academics, theoreticians, and artists. While some of the contributions show how the market's globalization and commercialization both reflect and propel the way art is produced, presented, and perceived, others downplay the impact of these developments and argue that the market's structure has essentially remained the same. All the essays trigger the question, what will art look like in 2022, and how will artists operate? This book is published as part of the curated project "Abstract Possible: The Stockholm Synergies," taking place at Tensta konsthall, the Center for Fashion Studies at Stockholm University, and the auction house Bukowskis.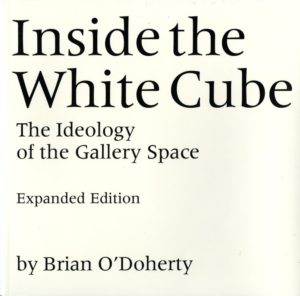 23
"Inside the White Cube: The Ideology of the Gallery Space"
Brian O'Doherty
University of California Press, 2000
When these essays first appeared in Artforum in 1976, their impact was immediate. They were discussed, annotated, cited, collected, and translated -the three issues of 'Artforum' in which they appeared have become nearly impossible to obtain. Having Brian O'Doherty's provocative essays available again is a signal event for the art world. This edition also includes "The Gallery as Gesture," a critically important piece published ten years after the others. O'Doherty was the first to explicitly confront a particular crisis in postwar art as he sought to examine the assumptions on which the modern commercial and museum gallery was based. Concerned with the complex and sophisticated relationship between economics, social context, and aesthetics as represented in the contested space of the art gallery, he raises the question of how artists must construe their work in relation to the gallery space and system.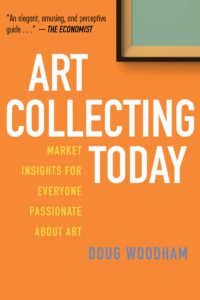 24
"The Market"
Natasha Degen (ed.)
The MIT Press, 2013
Drawing on a wide range of interdisciplinary sources, in dialogue with artists' writings, this anthology traces the historic origins of these debates in different versions of modernism and surveys the relationships among art, value, and price; the evolution and influence of patronage; the actors and institutions of the art market; and the diversity of artistic practices that either criticize or embrace the conditions of the contemporary market.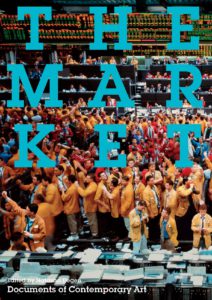 25
"Art Collecting Today: Market Insights for Everyone Passionate About Art"
Doug Woodham
Allworth Press, 2017

Grounded in real-life stories, Art Collecting Today is the essential practical guide to today's art market. A lightly regulated industry with more than sixty billion dollars of annual sales, the art market is often opaque and confusing to even the most experienced collectors. But whether a seasoned collector, an uninitiated newcomer, or an art-world insider, readers will learn within these pages how the art marketplace works in practice and how to navigate it smartly. Those who may have been put off by art-world practices will finally feel they have the knowledge needed to participate freely and fully, and collectors will be able to pursue their passion with more confidence. Informed by close to one hundred interviews with collectors, lawyers, art advisors, gallerists, and auction specialists in the United States and Europe, as well as by the author's own experiences, Art Collecting Today offers a lively and thought-provoking analysis of the day-to-day workings at play today in the fine art marketplace.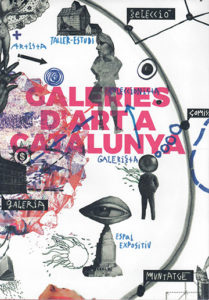 26
"Galeries d'Art a Catalunya"
Institut Català de les Empreses Culturals (ICEC) (ed.)
2018
Edited by the Catalan Institute for Cultural Companies (ICEC), a public institution attached to the Catalan Government's Ministry of Culture, this publication acknowledges the valuable task of galleries in the Catalan context and allows to contribute to the promotion of the art gallery sector both in Catalonia and abroad. The four sections that make up this book correspond to four central elements of the activities taking place in an art gallery. Continent (space), conceptualization and preparation tasks, packaging, mounting, and dismantling of an exhibition (under construction); the people that make this activity possible, from the moment of creation until the public exhibition (protagonists); and finally, the museums, art centers, exhibition spaces and private collections, the final stage of the art works (destination).
27
"TG Notebook #6"
Talking Galleries (ed.)
2018
The sixth issue of Talking Galleries' Notebook series collects the world-class talks and panels that made up the programme of the 6th Barcelona Symposium, which was held at the Museu d'Art Contemporani de Barcelona (MACBA) from 22 to 23 January 2018. The topics discussed during the two-day event will interest a broad readership. Surely, the knowledge and generosity of our keynote speaker and panellists are second to none. Curators, collectors, art advisors, auction houses, fair organisers and, most of all, gallerists will find along these pages rigorous, thought-provoking perspectives on the latests developments of the art market. For those who could not make it to the symposium, as well as for those attendees who would like to go over the talks again, this notebook is packed with ideas and data.
The digital version of Notebook #6 is available to download for free from Talking Galleries' website here .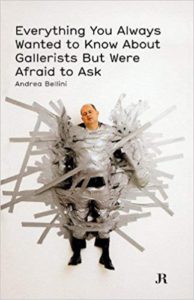 28
"Everything You Always Wanted To Know About Gallerists But Were Afraid To Ask"
Andrea Bellini
JRP|Ringier, 2009

The massive expansion of the art market in recent decades has aroused much intrigue about how galleries operate, particularly as critics, artists and independent curators take the lead in opening their own spaces, enhancing the appeal of the gallerist's role. The primary function of the contemporary gallerist continues to be the one established by D.H. Kahnweiler over a century ago: that of a "traveling companion" to artists, one who nourishes the work's development, recording it and ensuring its optimum passage into the world. But in today's economy, the gallerist as cultural entrepreneur and arbiter exercises a professional hybridity far removed from Kahnweiler's day. Here, Andrea Bellini interviews figures from 51 galleries, including Gavin Brown's Enterprise (New York), Massimo De Carlo (Milan), Greene Naftali (New York), Hotel (London), Kurimanzutto (Mexico), Franco Noero (Turin), Eva Presenhuber (Zurich), Johann König (Berlin) and Vitamin (Beijing), eliciting their views on the complexities of art culture worldwide.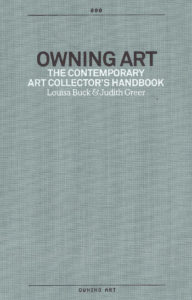 29
"Owning Art. The Contemporary Art Collector's Handbook"
Louisa Buck and Judith Greer
Cultureshock Media, 2006
This sharp, practical look at the contemporary art market declares its irreverence early with a full-page, large print citation of Jenny Holzer's truism, "Money creates taste." Louisa Buck and Judith Greer's analyses of buyers' interests and responsibilities (including a section on how artists see the market and how collectors should treat them) make Owning Art a guidebook of interest to armchair travelers as well as its ostensible target market–it's not just collectors who seek to understand more about dealers, auction houses, art fairs, selection, pricing and conservation.
30
"From Manet to Manhattan: The Rise of the Modern Art Market"
Peter Watson
Random House, 1992

Watson's colorful, anecdotal history of the development of the modern art market opens with his behind-the-scenes account of the 1990 Christie's auction that saw the sale of a van Gogh portrait for a record $82.5 million. His theme–that auctioneers and dealers have shaped the art market as arbiters of public taste–receives sporadic support, as in his account of the New York Armory Show of 1913 or a discussion of dealer Siegfried Bing, "godfather of Art Nouveau." Art critic for the London Observer and the Spectator, Watson entertainingly covers art scandals, big deals and changing fashions, profiling such dealers as Ambroise Vollard, Daniel Wildenstein and the notorious Joseph Duvenn as well as collectors such as Gertrude Stein, Isabella Stewart Gardner and Louisine Havemeyer. He airs the fierce current rivalry between Sotheby's and Christie's and suggests that much of the recent art boom was artifically generated, involving shady purchases by Japanese buyers who used art to launder money for Japan's political parties, corporations and organized crime.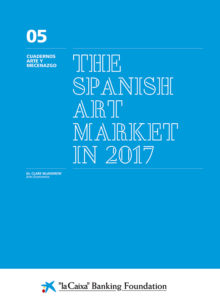 31
"The Spanish Art Market in 2017"
Clare McAndrew
Fundació Bancaria "la Caixa", 2018
This third report contributes to deepen the art market in Spain. It offers an increasingly clear image of a still weak market that requires many efforts to provide the necessary professional support to our artists, to be competitive in a global art system and to consolidate our artistic heritage. This survey examines the size, structure and key trends in the Spanish art and antiques market. It showed that while the global market declined during this period, sales in Spain grew 19% to €385 million. However, its share of the global art market remained relatively small at just less than 1%.
32
"The A-Z of the International Art Market: The Essential Guide to Customs, Conventions and Practice"
Tom Flynn
Bloomsbury Business, 2016

In 2014, there were over 300,000 companies involved in the world's art market, employing around 2.8 million people, and applications to undergraduate and postgraduate degree courses are at an all-time high. But the language used by market insiders can be alienating and confusing to those new to the art market. The A-Z of the International Art Market not only clarifies useful terms and definitions, but also represents a significant contribution to the fast-developing processes of transparency and democratisation in the global art business.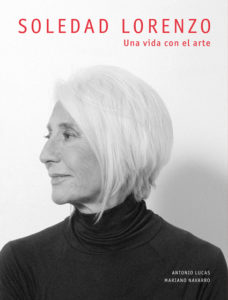 33
"Soledad Lorenzo: Una vida con el arte"
Texts by Antonio Lucas and Mariano Navarro
Proyectos Utópicos SL / EXIT Publicaciones, 2013
This book, the first monograph devoted to a gallerist in Spain, "is not a biography of the person, but a biography of the gallery that transformed the idea of the contemporary art market in Spain. The history of a private gallery that became a cultural project, twenty-seven years of trajectory, the origins, the artists, the objectives and a memory that is part of the history of Spanish art. From a long conservation with Antonio Lucas, journalist and poet, and an essay full of anecdotes and testimonies of the artists who worked in the gallery, written by the art critic, Mariano Navarro, Soledad Lorenzo: A life with art draws a very personal portrait of the gallerist and allows an analysis of the work she has developed throughout her more than forty years of work." The publication of this book was made with the award that the Arte y Mecenazgo Foundation (Fundació Bancaria "la Caixa) granted Soledad Lorenzo in 2012.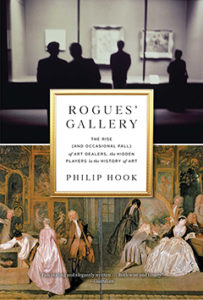 34
"Rogues' Gallery. The Rise (and Occasional Fall) of Art Dealers, the Hidden Players in the History of Art"
Philip Hook
The Experiment, 2017

Philip Hook's riveting narrative takes us from the early days of art dealing in Antwerp, where paintings were sold by weight, to the unassailable hauteur of contemporary galleries in New York, London, Paris, and beyond. Along the way, we meet a surprisingly wide-ranging cast of characters—from tailors, spies, and the occasional anarchist to scholars, aristocrats, and connoisseurs, some compelled by greed, some by their own vision of art—and some by the art of the deal. Among them are Joseph Duveen, who almost single-handedly brought the Old Masters to America; Paul Durand-Ruel, the Impressionists' champion; Daniel-Henry Kahnweiler, high priest of Cubism; Leo Castelli, dealer-midwife to Abstract Expressionism and Pop Art; and Peter Wilson, the charismatic Sotheby's chairman who made a theater of the auction room. Rogues' Gallery bursts with unforgettable anecdotes and astute judgments about art and artists, honed by Hook's more than forty years in the art market—making it essential reading for anyone interested in the hidden history of art.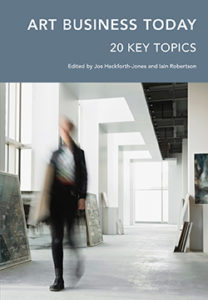 35
"Art Business Today. 20 Key Topics"
Edited by Jos Hackforth-Jones and Iain Robertson
Lund Humphries, 2016
Art Business Today: 20 Key Topics is an accessible and comprehensive companion to the business of art written by leading experts in the field, many of them based at Sotheby's Institute of Art. It is an essential reference book for students in the areas of art business, arts management, the creative and cultural industries, art history, and general business and management. The key topics covered range from larger-scale questions about the globalisation, funding, and ethics of the art market, to entries more focused on art objects themselves, such as connoisseurship, authenticity and conservation. Providing an up-to-date entree to the processes, structures, trends and peculiarities of the global art business, this book will fascinate all those unfamiliar with its opaque practices and traditions.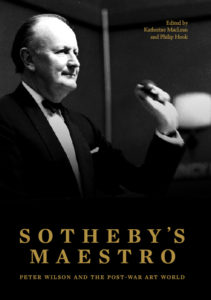 36
"Sotheby's Maestro. Peter Wilson and the Post-War Art World"
Katherine McLean and Philip Hook (ed.)
Sotheby's, 2017
Bringing together a collection of candid interviews with the friends and peers who knew him best, this illuminating book charts the rise of Wilson throughout his early career in the art world, and his eventual role as chairman of Sotheby's. Wilson revolutionised the profile of the auction house and has played a significant role to the shape of the art market as we know it today. His visionary approach, enthusiasm and unrivalled expertise set him apart in a world steeped in tradition and hierarchy. Contributors to the book include Lord Rothschild, Julian Agnew, the Countess of Rosebery and David Nash.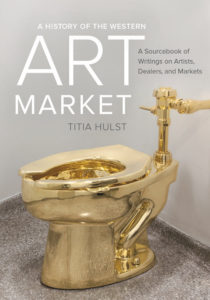 37
"A History of the Western Art Market: A Sourcebook of Writings on Artists, Dealers and Markets"
Edited by Titia Hulst
University of California Press, 2017
This is the first sourcebook to trace the emergence and evolution of art markets in the Western economy, framing them within the larger narrative of the ascendancy of capitalist markets. Selected writings from across academic disciplines present compelling evidence of art's inherent commercial dimension and show how artists, dealers, and collectors have interacted over time, from the city-states of Quattrocento Italy to the high-stakes markets of postmillennial New York and Beijing. This approach casts a startling new light on the traditional concerns of art history and aesthetics, revealing much that is provocative, profound, and occasionally even comic. This volume's unique historical perspective makes it appropriate for use in college courses and postgraduate and professional programs, as well as for professionals working in art-related environments such as museums, galleries, and auction houses.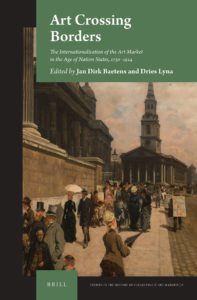 38
"Art Crossing Borders – The Internationalisation of the Art Market in the Age of Nation States, 1750-1914"
Edited by Jan Dirk Baetens & Dries Lyna
Brill, 2019
Art Crossing Borders offers a thought-provoking analysis of the internationalisation of the art market during the long nineteenth century. Twelve experts, dealing with a wide variety of geographical, temporal, and commercial contexts, explore how the gradual integration of art markets structurally depended on the simultaneous rise of nationalist modes of thinking, in unexpected and ambiguous ways.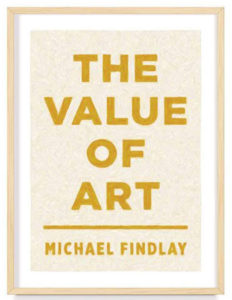 39
"The Value of Art: Money, Power, Beauty"
Michael Findlay
Prestel, 2014
This fascinating and critically acclaimed book explains the market for art–and art's value for all of us. In straightforward prose that doesn't mystify art or deny its special allure, prominent art dealer and market expert Michael Findlay offers an up-close and personal view of almost a half century in the business of art. He engagingly explains art's three kinds of value: commercial; social; and what he terms its essential value–the range of responses to art that we as individuals have depending on our culture, education, and life experience.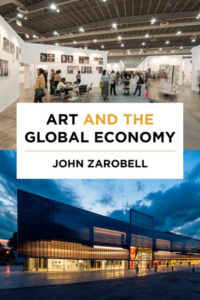 40
"Art and the Global Economy"
John Zarobell
University of California Press, 2017
Art and the Global Economy analyzes major changes in the global art world that have emerged in the last twenty years including structural shifts in the global art market; the proliferation of international art fairs, biennials and blockbuster exhibitions; and the internationalization of the scope of contemporary art. John Zarobell explores the economic and social transformations in the cultural sphere, the results of greater access to information about art, exhibitions, and markets around the world, as well as the increasing interpenetration of formerly distinct geographical domains. By considering a variety of locations—both long-standing art capitals and up-and-coming centres of the future—Art and the Global Economy facilitates a deeper understanding of how globalization affects the domain of the visual arts in the twenty-first century. With contributions by Lucia Cantero, Mariana David, Valentin Diaconov, Kai Lossgott, Grace Murray, Chhoti Rao, Emma Rogers and Michelle Wong.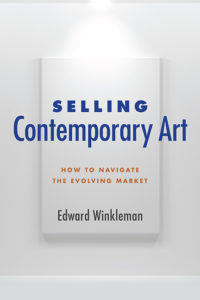 41
"Selling Contemporary Art: How to Navigate the Evolving Market"
Edward Winkleman
Allworth Press, 2015
A sophisticated examination of today's contemporary art market from an art dealer's point of view, this new book focuses on recent changes in the quickly evolving market. With an emphasis on how the market responded to the global recession that began in 2008, gallery owner Edward Winkleman moves from an examination of the factors beyond the individual dealer's command to those that the dealer can control. Sections cover: "The rise of the art fair;" "The rise of the mega gallery;" "New online competition;"  "Models of post-brick-and-mortar art dealing;" "Art dealers as art fair organizers" and "Collaboration in a new era."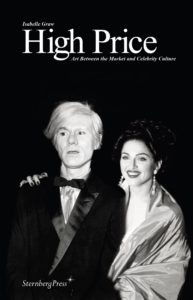 42
"High Price: Art Between the Market and Celebrity Culture"
Isabelle Graw
Sternberg Press, 2010
Today, the art world is not dominated by a small group of insiders. According to Graw, the art economy has been transformed from a retail business into an industry that produces visuality and meaning. This book questions the assumption of a dichotomy between art and the market, as well as the notion that market value is equal to artistic value. While examining the intrinsic connection between artistic production and its market conditions, Graw also insists that art is a commodity unlike any other. High Price claims that art and the market have to escape each other precisely because they are so deeply entangled.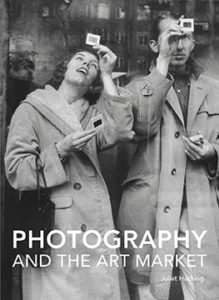 43
"Photography and The Art Market"
Juliet Hacking
Lund Humphries, 2018
The first part of this essential handbook provides an art-business analysis of the market for art photography and explains how to navigate it. The second is an art-historical account of the evolution of art photography from a marginal to a core component of the international fine-art scene. In tracing the emergence of a robust art-world subsystem for art photography, sustaining both significant art-world presence and strong trade, the book shows the solid foundations on which today's international market is built, examines how that market is evolving, and points to future developments. This pioneering handbook is a must-read for scholars, students, curators, dealers, photographers, private collectors, institutional buyers, and other arts professionals.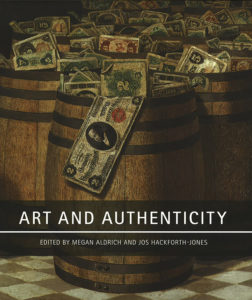 44
"Art And Authenticity"
Megan Aldrich & Jos Hackforth-Jones (ed.)
Lund Humphries, 2012
Art and Authenticity explores a range of questions around the ideas of authenticity, originality and replication in art. The authors move far beyond the fundamental question of 'Is it genuine?' to themes and definitions surrounding authenticity as a concept operating across different periods and contexts. The chapters consider empirical aspects of art analysis but also more conceptual and theoretical understandings of authenticity. For example, is there such a thing as authentic presentation and display of artworks? Can the idea of authenticity be applied to subject-matter and style? How do the art market and the art world respond to the perceived authenticity of artworks? This book addresses a wide range of topics within the arts and will appeal to a broad readership, from students and art specialists to art-world enthusiasts.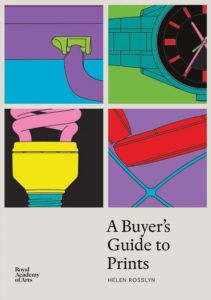 45
"A Buyer's Guide to Prints"
Helen Rosslyn
Royal Academy of Arts, 2018
This straight-talking guide is the perfect companion for anyone interested in buying or collecting prints, whether Old Master or contemporary. Helen Rosslyn, a print specialist and Director of the London Original Print Fair, provides her expert insider advice, incorporating tips from artists, print dealers, paper conservators and picture framers. With an explanation of print-making techniques, a history of printmaking and a comprehensive glossary, this book answers all the questions a prospective buyer may have.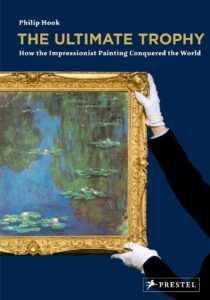 46
"The Ultimate Trophy: How Impressionist Painting Conquered the World"
Philip Hook
Prestel, 2009
Starting with its shocking novelty and confounding style, Philip Hook traces the impact of the Impressionist painting as it spread to Germany, America, Great Britain and Japan, polarizing modernists and conservatives. Drawn from the author's own experiences with art collectors and dealers, this fascinating chapter in art history is narrated through the lens of today's art market.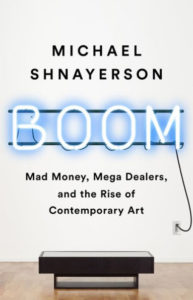 47
"Boom: Mad Money, Mega Dealers, and the Rise of Contemporary Art"
Michael Shnayerson
PublicAffairs, 2019
The contemporary art market is an international juggernaut, throwing off multimillion-dollar deals as wealthy buyers move from fair to fair, auction to auction, party to glittering party. But none of it would happen without the dealers-the tastemakers who back emerging artists and steer them to success, often to see them picked off by a rival. Dealers operate within a private world of handshake agreements, negotiating for the highest commissions. Michael Shnayerson, a longtime contributing editor to Vanity Fair, writes the first ever definitive history of their activities. He has spoken to all of today's so-called mega dealers-Larry Gagosian, David Zwirner, Arne and Marc Glimcher, and Iwan Wirth-along with dozens of other dealers-from Irving Blum to Gavin Brown-who worked with the greatest artists of their times: Jackson Pollock, Andy Warhol, Cy Twombly, and more.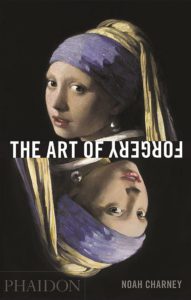 48
"The Art of Forgery: The Minds, Motives and Methods of Master Forgers"
Noah Charney
Phaidon, 2015
The Art of Forgery: The Minds, Motives and Methods of Master Forgers explores the stories, dramas and human intrigues surrounding the world's most famous forgeries – investigating the motivations of the artists and criminals who have faked great works of art, and in doing so conned the public and the art establishment alike.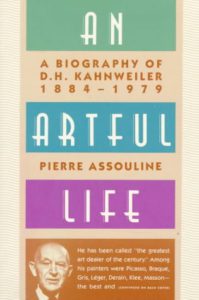 48
"An Artful Life: a Biography of D.H. Kahnweiler, 1884-1979"
Pierre Assouline
Grove/Atlantic, 1990
The first biography dedicated to the one who was the greatest dealer of paintings of his time. Apprentice banker from Germany, Daniel-Henry Kahnweiler finds his true vocation in 1907, when he opens a small gallery in Paris. He will be the most ardent propagandist of cubists. "His" painters are called Picasso, Braque, Gris, Léger, de Vlaminck, Derain, Masson…Of him as of no other, one could say that he was "the man of the art".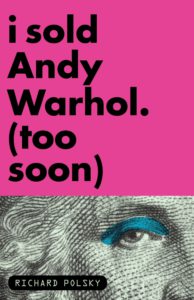 50
"I Sold Andy Warhol (Too Soon)"
Richard Polsky
Other Press, 2011
In early 2005, Richard Polsky decided to put his much-loved, hard-won Warhol Fright Wig, up for auction at Christie's. The market for contemporary art was robust and he was hoping to turn a profit. His instinct seemed to be on target: his picture sold for $375,000. But if only Polsky had waited… Over the next two years, prices soared to unimaginable heights with multimillion-dollar deals that became the norm and not the exception. Buyers and sellers were baffled, art dealers were bypassed for auction houses, and benchmark prices proved that trees really do grow to the sky. Had the market lost all reason?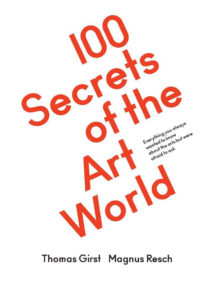 51
"100 Secrets of The Art World: Everything you always wanted to know about the arts but were afraid to ask"
Thomas Girst & Magnus Resch (eds.)
Koenig Books, 2016
What are the secrets of some of the most powerful individuals in the art world? This book contains exclusive anecdotes, advice and personal stories from contributors such as Jeff Koons, Zaha Hadid, Marina Abramovic, Larry Gagosian, John Baldessari and others.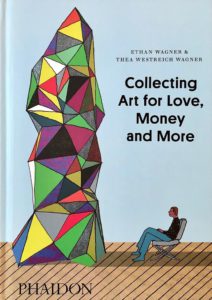 52
"Collecting Art for Love, Money and More" Ethan and Thea Wagner
Phaidon, 2013
Collecting Art for Love, Money and More looks at why collecting art is a completely unique experience that offers emotional, intellectual and social rewards. The authors argue that the motivations for acquiring a work of art and building a collection, unlike buying anything else, may be any combination of investment potential, aesthetics, love of art, challenge, intellectual exploration, social status, adrenaline rush, ego-building or public attention.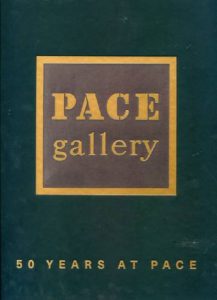 53
"50 Years at Pace"
Arne Glimcher
Pace Gallery, 2010
In celebration of its 50th anniversary, The Pace Gallery presents a multi-venue retrospective of the gallery's history highlighting the many artists, exhibitions, people, literature and ideals that have influenced its narrative over the past five decades. 50 Years at Pace will bring together some of the key masterpieces that have passed through Pace's doors, featuring loans from important public and private collections worldwide. With works spanning more than a century and a selection of rare archival materials, 50 Years at Pace will shed light on some of the landmark exhibitions and sales from the gallery's extensive history.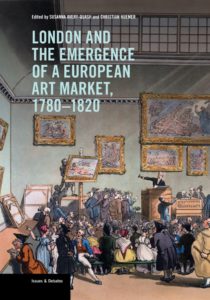 54
"London and the Emergence of a European Art Market, 1780-1820"
Susanna Avery-Quash and Christian Huemer (eds.)
Getty Publications, 2019
In the late 1700s, as the events of the French Revolution roiled France, London displaced Paris as the primary hub of international art sales. Within a few decades, a robust and sophisticated art market flourished in London. 'London and the Emergence of a European Art Market, 1780-1820' explores the commercial milieu of art sales and collecting at this turning point. In this collection of essays, twenty-one scholars employ methods ranging from traditional art historical and provenance studies to statistical and economic analysis; they provide overviews, case studies and empirical reevaluations of artists, collectors, patrons, agents and dealers, institutions, sales and practices. Drawing from pioneering digital resources-notably the Getty Provenance Index-as well as archival materials, such as trade directories, correspondence, stock books and inventories, auction catalogs and exhibition reviews, these scholars identify broad trends, reevaluate previous misunderstandings and consider overlooked commercial contexts to illuminate artistic taste. From individual case studies to econometric overviews, this volume is groundbreaking for its diverse methodological range that illuminates artistic taste and flourishing art commerce at the turn of the nineteenth century.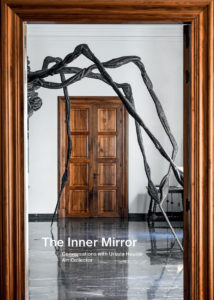 55
"The Inner Mirror: Conversations with Ursula Hauser, Art Collector'
Edited by Laura Bechter, Michaela Unterdörfer
Hauser & Wirth, 2019 
This book presents the first-ever extensive account of her life and art collection. More than a straightforward biography, The Inner Mirror reads like an intimate conversation with a highly intelligent friend. Hauser recounts her discovery and support of artists such as Pipilotti Rist, Roni Horn and Paul McCarthy, as well as her acquisitions of the estates of artists such as Eve Hesse, Lee Lozano and Francis Picabia. Interspersed with photographs of Hauser at artist's homes or studios, this volume provides invaluable insight into the life and work of one of today's finest gallerists and collectors.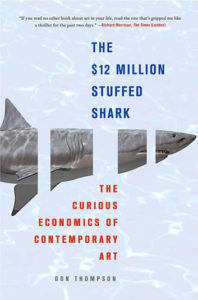 56
"The $12 Million Stuffed Shark: The Curious Economics of Contemporary Art"
Don Thompson
Macmillan, 2010
Why would a smart New York investment banker pay $12 million for the decaying, stuffed carcass of a shark? By what alchemy does Jackson Pollock's drip painting No. 5, 1948 sell for $140 million?
Intriguing and entertaining, The $12 Million Stuffed Shark is a Freakonomics approach to the economics and psychology of the contemporary art world. Why were record prices achieved at auction for works by 131 contemporary artists in 2006 alone, with astonishing new heights reached in 2007? Don Thompson explores the money, lust, and self-aggrandizement of the art world in an attempt to determine what makes a particular work valuable while others are ignored.
This book is the first to look at the economics and the marketing strategies that enable the modern art market to generate such astronomical prices. Drawing on interviews with past and present executives of auction houses and art dealerships, artists, and the buyers who move the market, Thompson launches the reader on a journey of discovery through the peculiar world of modern art. Surprising, passionate, gossipy, revelatory, The $12 Million Stuffed Shark reveals a great deal that even experienced auction purchasers do not know.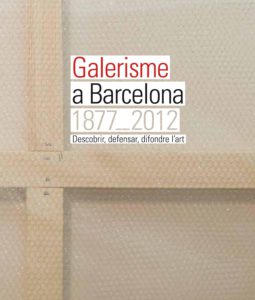 57
"Galerisme a Barcelona. 1877_2012. Descobrir, defensar, difondre l'art"
Jaume Vidal Oliveras
Ajuntament de Barcelona & Associació Art Barcelona, 2012
This book was published to coincide with the twentieth anniversary of the Barcelona Art Association, and it is a journey through the history of Barcelona's art galleries over the 135 years between 1877 and 2012. The book is supplemented by an appendix that includes a list of all the city's gallery exhibitions and activities between 1970 and 2012.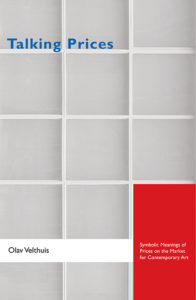 58
"Talking Prices: Symbolic Meanings of Prices on the Market for Contemporary Art"
Olav Velthius
Princeton University Press, 2007
How do dealers price contemporary art in a world where objective criteria seem absent? Talking Prices is the first book to examine this question from a sociological perspective. On the basis of a wide range of qualitative and quantitative data, including interviews with art dealers in New York and Amsterdam, Olav Velthuis shows how contemporary art galleries juggle the contradictory logics of art and economics. In doing so, they rely on a highly ritualized business repertoire. For instance, a sharp distinction between a gallery's museumlike front space and its businesslike back space safeguards the separation of art from commerce. Velthuis shows that prices, far from being abstract numbers, convey rich meanings to trading partners that extend well beyond the works of art. A high price may indicate not only the quality of a work but also the identity of collectors who bought it before the artist's reputation was established. Such meanings are far from unequivocal. For some, a high price may be a symbol of status; for others, it is a symbol of fraud. Whereas sociological thought has long viewed prices as reducing qualities to quantities, this pathbreaking and engagingly written book reveals the rich world behind these numerical values. Art dealers distinguish different types of prices and attach moral significance to them. Thus the price mechanism constitutes a symbolic system akin to language.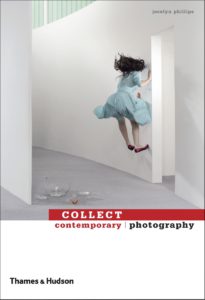 59
"Collect Contemporary Photography"
Jocelyn Phillips
Thames & Hudson, 2012
Where does one begin when assembling a collection of contemporary photography? How can one identify prints of lasting appeal? From discovering photographers to determining editions and displaying prints, Collect Contemporary Photography accompanies collectors through the whole process of acquiring photographic works. It also provides guidance on practical matters, including information about different photographic techniques.
Forty photographers to consider when collecting are profiled in detail, with information about their background and training, and sources of inspiration. The selection is truly international, covering the United States, Germany, Turkey, China, Japan, the United Kingdom and beyond. Photography lovers and collectors will feel inspired by the diversity and creativity of the artists. Among the featured names are Gregory Crewdson with his well-known Twilight scenes, Denis Darzacq with his freeze-frame photographs of Paris youths, Julia Fullerton-Batten with her images of teenage girls, Youssef Nabil with his hand-coloured star portraits and Izima Kaoru with his fictional death scenes.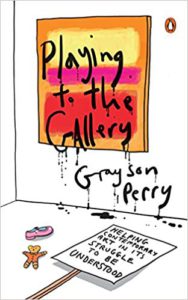 60
"Playing to the Gallery: Helping Contemporary Art in its Struggle to Be Understood"
Grayson Perry
Particular Books, 2014
Now Grayson Perry is a fully paid-up member of the art establishment, he wants to show that any of us can appreciate art (after all, there is a reason he's called this book 'Playing to the Gallery' and not 'Sucking up to an Academic Elite'.) Based on his hugely popular Reith Lectures and full of words and pictures, this funny, personal journey through the art world answers the basic questions that might occur to us in an art gallery but seem too embarrassing to ask. Questions such as: What is "good" or "bad" art—and does it even matter? Is art still capable of shocking us or have we seen it all before? And what happens if you place a piece of art in a rubbish dump?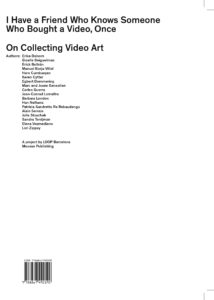 61
"I Have a Friend Who Knows Someone Who Bought a Video, Once"
Edited by LOOP Barcelona
Mousse Publishing, 2016
 The act of collecting artists films and videos poses undoubtedly interesting questions and it implies delving into a complex terrain that is at once unregulated and vital. Having its starting point in the most pressing debates surrounding the moving image, this book results from team working and years' worth investigation to promote video art and its production.
In a market that constantly demands for materiality, video and film are perceived as ephemeral and often regarded with suspicion by some private collectors and galleries. While escaping the traditional definition of "unique objects" and qualifying as "misfit creations", they get dismissed by the market as something that cannot be monetized. In drawing a historical trajectory that encompasses the introduction of the moving image into public museums first, and private collections later, this publication simultaneously deals with issues related to the acquisition, production, distribution, display and conservation of time-based art.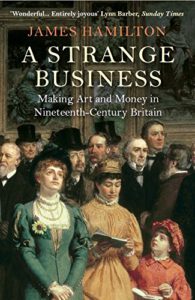 62
"A Strange Business: Making Art and Money in Nineteenth-Century Britain"
James Hamilton
Atlantic Books, 2015
Britain in the nineteenth century saw a series of technological and social changes which continue to influence and direct us today. Its reactants were human genius, money and influence, its crucibles the streets and institutions, its catalyst time, its control the market. In this rich and fascinating book, James Hamilton investigates the vibrant exchange between culture and business in nineteenth-century Britain, which became a centre for world commerce following the industrial revolution. He explores how art was made and paid for, the turns of fashion, and the new demands of a growing middle-class, prominent among whom were the artists themselves. While leading figures such as Turner, Constable, Landseer, Coleridge, Wordsworth and Dickens are players here, so too are the patrons, financiers, collectors and industrialists; lawyers, publishers, entrepreneurs and journalists; artists' suppliers, engravers, dealers and curators; hostesses, shopkeepers and brothel keepers; quacks, charlatans and auctioneers. Hamilton brings them all vividly to life in this kaleidoscopic portrait of the business of culture in nineteenth-century Britain, and provides thrilling and original insights into the working lives of some of our most celebrated artists.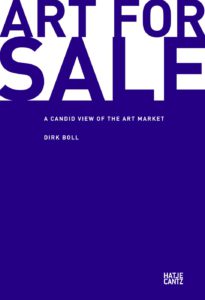 63
"Art for Sale: A Candid View of the Art Market"
Boll Dirk
Hatje Cantz, 2011
Record prices and substantial profits have been and still are being achieved on the art market. Yet anyone who wants to get involved needs to be informed: what distinguishes the English type of auction from one in the Netherlands? What differentiates a vintage from a period, modern, or estate print? Dirk Boll, managing director of Christie's in Zurich, explains this and other technical terms while providing us with insight into the rapidly changing art market: the increasingly symbiotic relationship between auctioneers and art dealers, the strategies used by the big auction houses, recognizing and creating trends, the profiles of the individual art fairs, promising new areas for collectors, and the future development of the art market are just some of the fascinating themes the expert knowledgeably and humorously deals with in concise chapters. A trained lawyer, Boll is as competent at shedding light on the legal parameters regulating the acquisition of art as he is in elucidating the difficulties surrounding looted art and restitution procedures.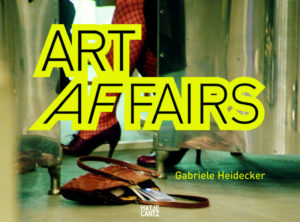 64
"Art Affairs"
Gabriele Heidecker
Hatje Cantz, 2007
In 2006, The New York Times' art critic Roberta Smith described Art Basel Miami as, …"a decentralized sprawling mass of excitement and display, plus lots of disposable wealth. It is the art world's version of Mardi Gras." The Miami fair's more established European partner, Art Basel, has been described as "the Olympics of the art world," and "a modern art mecca" by The New York Times and the Wall Street Journal respectively. Add to these the Venice Biennale, Documenta, Skulptur Projekte Munster, the Armory show, SITE Santa Fe, the Whitney, Liverpool, Sao Paolo, Berlin, Sharjah, Sydney, Beijing, Prague and Istanbul biennials and dozens of other international fairs seemingly proliferating without check, and you have a pretty accurate depiction of the state of the roving art world epicenter today. For years, Berlin photographer Gabriele Heidecker has documented the key moments, players and artworks of this evolving phenomenon. Produced to accompany the 2007 Art Basel Miami fair, this probing photographic study includes analytic essays by a consortium of experts in the field.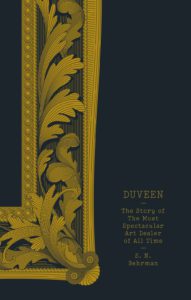 65
"Duveen: The Story of the Most Spectacular Art Dealer of All Time"
S.N. Behrman
Daunt Books, 2014
In this exceptional biography S. N. Behrman tells the story of Duveen's rise to prestige, from delftware peddler to selling the greatest European paintings to the greatest American millionaires. Duveen was a skilled salesman, enticing his well-heeled and business-savvy clients with visions of cultivation through acquisition of high-culture. He even laid the foundations for the great American museums of art, including the National Gallery and the Frick Collection, by persuading his clients to bequeath their purchases to the nation.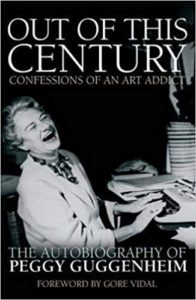 66
"Out of this Century. Confessions of an Art Addict. The autobiography of Peggy Guggenheim"
Peggy Guggenheim
Andre Deutsch Ltd, 2005 (first edition 1979)
Known as 'the Mistress of modern art', Peggy Guggenheim was a passionate collector and major patron. She amassed one of the most important collections of early 20th century European and American art embracing cubism, surrealism and expressionism. A 'poor little rich girl', (her father, Benjamin, went down with the Titanic in 1912), she was magnetically drawn to the avant-garde artistic community of Paris. She bought works by, and befriended, such artists as Picasso, Duchamp, Man Ray and Dali. In 1938 she opened her first gallery of modern art in London, followed by the 'Art of this Century' gallery in New York. Then, after a 4-year marriage to Max Ernst, she returned to Europe, setting up her collection in Venice where she lived until her death in 1979. This is the fascinating autobiography of a society heiress who became the bohemian doyenne of the art world. Written in her own words it is the frank and outspoken story of her life and loves: her stormy relationships with such men as Max Ernst and Jackson Pollock, of artistic discoveries and the excitement of promoting great work. A must read for anyone with an interest in these major league artists, this seminal period of art history, and the ultimate self-invented woman.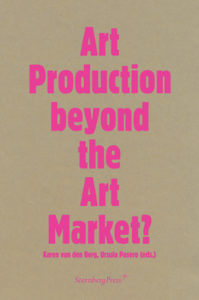 67
"Art Production beyond the Art Market?"
Karen Van Den Berg, Ursula Pasero (eds.)
Sternberg Press, 2013
Much evidence suggests that a fundamental reordering of artistic production and a transformation of the art field are about to take place. Heated debates have been sparked over new forms of work, public subsidies, and the expanding impact of the creative industries. Independent education programs, self-organized urban planning, artistic practices in the outer field of scientific research, and similar initiatives have unfolded over the last few years. This publication addresses this wide field, focusing on theoretical reflections and exemplary insights into alternative artistic working models. The anthology assembles expert studies and artists' interviews, in order to reflect on new forms of practices that have been established beyond the exhibition-gallery nexus and hegemonic market activity. These strategies in particular are investigated concerning their selfimages, organizational structures, networks, and economies—and the potential for usurpation.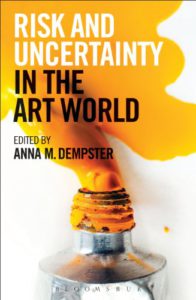 68
"Risk and Uncertainty in the Art World"
Anna Dempster
A & C Black, 2014
"Risk and Uncertainty in the Art World offers the first complete overview of risk in the art market by bringing together contributions from a wide range of international thought-leaders on the topic—both practitioners and leading scholars who investigate the specific types of uncertainty that exist in the art market as well as the dominant models used to manage the risks. An essential read for art world practitioners as well as scholars and students, Risk and Uncertainty in the Art World illustrates the dynamics and unique qualities of the art market as well as developing insights relevant to other sectors, including sociology, business and management, economics and finance."
Contributors include: Tom Christopherson, Sotheby's Europe; Anders Petterson, ArtTactic; Olav Velthuis, University of Amsterdam; Tom Flynn, Kingston University; Hans J. Van Miegroet and Neil DeMarchi, Duke University; Marina Bianchi, University of Cassino; Rachel Pownall, University of Tilburg and University of Maastricht; Elroy Dimson, London Business School; Steve Satchell and Nandini Srivastava, Cambridge University; Christophe Spaenjers, HEC Paris; Laurent Noel, Audencia Nantes School of Management; Arjo Klamer, Erasmus University.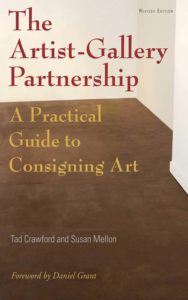 69
"The Artist-Gallery Partnership: A Practical Guide to Consigning Art"
Tad Crawford and Susan Mellon
Allworth Press, 2008 
Artists, dealers, and gallery owners will welcome this clear explanation of the consignment contracts that lie at the heart of the relationship between artists and galleries. Updates include the latest developments in state laws and all of the current statutes in the 32 states that have laws regarding consignment sales. A thorough discussion of the Standard Consignment Agreement, covering agency, consignment, warranties, transportation, insurance, pricing, gallery commissions, promotion, return of art, and more, plus a ready-to-use contract, is included.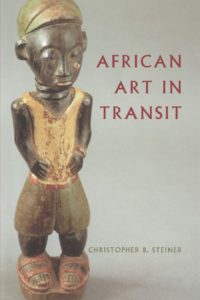 70
"African Art in Transit"
Christopher B. Steiner
Cambridge University Press, 1994  
African Art in Transit is an absorbing account of the commodification and circulation of African art objects in the international art market. Christopher Steiner's analysis of the role of the African middleman in linking those who produce and supply works of art in Africa with those who buy and collect so-called 'primitive' art in Europe and America is based on extensive field research among the art traders in Côte d'Ivoire. Steiner provides a lucid interpretation which reveals not only a complex economic network with its own internal logic and rules, but also an elaborate process of transcultural valuation and exchange.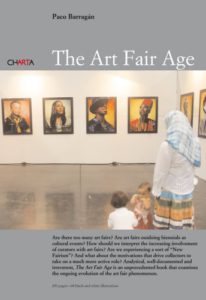 71
"The Art Fair Age"
Paco Barragán 
Charta, 2008  
Are there too many art fairs? Are art fairs outdoing biennials as cultural events? How should we interpret the increasing involvement of curators with art fairs? Are we experiencing a sort of "New Fairism"? And what about the motivation that drive collectors to take on a much more active role? Analytical, well-documented and irreverent, The Art Fair Age is an unprecedented book that examines the ongoing evolution of the art fair phenomenon.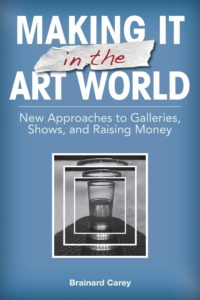 72
"Making it in the Art World: New Approaches to Galleries, Shows and Raising Money" 
Brainard Carey
Allworth Press, 2011  
Making It in the Art World is an invaluable resource for artists at every stage, offering readers a plethora of strategies and helpful tips to plan and execute a successful artistic career. Topics include how to evaluate your own work, how to submit art, how to present work to the public, how to avoid distractions in the studio, and much more.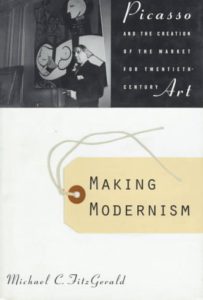 73
"Making Modernism: Picasso and the Creation of the Market for Twentieth-Century Art"
Michael C. FitzGerald
Farrar Straus Giroux, 1995  
Picasso's stature as the foremost artist of this century is inseparable from his profound engagement with the art market. In Making Modernism, Michael C. Fitzgerald illustrates how Picasso enhanced his reputation in the art world—and in so doing transformed that world—by adroitly orchestrating the commercial presentation of his work. Drawing on previously unpublished correspondence between Picasso and his dealers and museum curators, Fitzgerald follows the artist from his search for a gallery in Paris through his acceptance by the renowned dealers Paul Rosenberg and Georges Wildenstein to the acclaimed 1939 retrospective of his work at the museum of modern art in New York.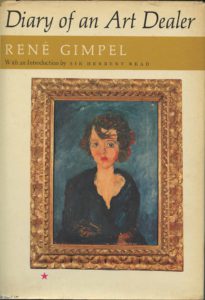 74
"Diary of an Art Dealer"
René Gimpel 
Farar, Straus, & Giroux, First Edition 1966  
Published posthumously as "Journal d'uncollectionneur: marchandde tableaux"(1963, revised edition2011) and translated and published in English in1966 (Farrar, Straus, & Giroux), "Diary of an ArtDealer"constitutes a primary source for the history of modern art and of collecting between the WorldWars.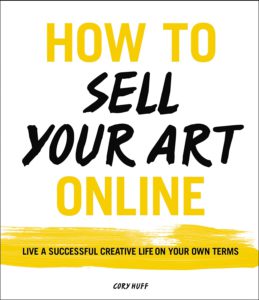 75
'How to Sell Your Art Online: Live a Successful Creative Life on Your Own Terms'
Cory Huff 
HarperCollins Publishers Inc, 2016

'How to Sell Your Art Online' shows any artist how to make a successful living from their work. Cory Huff dispels the myth of the starving artist and provides the effective business strategies necessary to make artistic creations pay. He helps individual artists find their niche; outlines the elements essential for an effective website; and provides invaluable advice on e-mail marketing, blogging, social media marketing, and paid advertising—explaining how to tie all these online activities into offline success.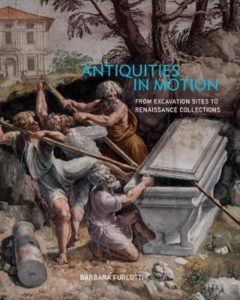 76
"Antiquities in Motion. From Excavation Sites to Renaissance Collections"
Barbara Furlotti
Getty Trust Publications, 2019  
Barbara Furlotti presents a dynamic interpretation of the early modern market for antiquities, relying on the innovative notion of archaeological finds as mobile items. She reconstructs the journey of ancient objects from digging sites to venues where they were sold, such as Roman marketplaces and antiquarians' storage spaces; to sculptors' workshops, where they were restored; and to Italian and other European collections, where they arrived after complicated and costly travel over land and sea.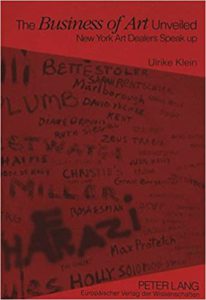 77
"The Business of Art Unveiled: New York Art Dealers Speak up"  
Ulrike Bielstein Klein
Peter Lang Publishing, 1994
 The recession of the 90's has caused fundamental changes in the art world. «Surviving» is the name of the game nowadays. In the 80's a broad public discovered the art market as a playground which resulted in an exorbitant rise in prices. The origins of this speculation-driven buying frenzy were the auction houses. What we see at auctions are works from artists who have already succeeded in building a reputation and a market. But how do these artists get there? Who discovers artists and builds a market for their work? These activities are the responsibility of art dealers. Art dealers used to conceal from the art-interested public how they work and how the market mechanisms function. To explore the nucleus of the art world was the goal of this research, conducted among New York Art Dealers.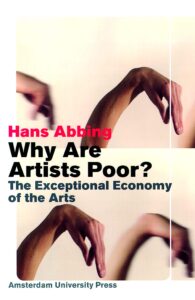 78
"Why Are Artists Poor?: The Exceptional Economy of the Arts"
Hans Abbing
Amsterdam University Press, 2002

Most artists earn very little. Nevertheless, there is no shortage of aspiring young artists. Do they give to the arts willingly or unknowingly? Governments and other institutions also give to the arts, to raise the low incomes. But their support is ineffective: subsidies only increase the artists' poverty. The economy of the arts is exceptional. Although the arts operate successfully in the marketplace, their natural affinity is with gift-giving, rather than with commercial exchange. People believe that artists are selflessly dedicated to art, that price does not reflect quality, and that the arts are free. But is it true?
79
"Artists and Society in Germany 1850-1914"
Robin Lenman
Manchester University Press, 1997
This wide-ranging and original study examines painters as a creative professional group in the context of developing German nationalism, and cultural rivalry between Germany and France. It contrast the careers of officially-favoured figures such as Anton or Werner with those of controversial outsiders like Max Liebermann, Wilhelm Leibl and Lovis Corinth. It explores the links between artists' fortunes, economic and political change, and the shifting relative importance of Germany's major art centres: Dresden, Dusseldorf, Munich and the increasingly wealthy and dynamic Reich capital, Berlin. A central theme is the development of the art market in the vital formative decades between the onset of the industrial revolution and the outbreak of the First World War, a period that witnesses growing market integration, links with tourism and the emergence of a pervasive dealer network. At the same time private art buying expanded rapidly and Germany's public galleries of modern painting achieved an international stature rivalled only by those of the United States.
80
"The Shift: Art And The Rise To Power Of Contemporary Collectors"
Marta Gnyp
Art And Theory Publishing, 2015
The Shift takes the reader on a fascinating journey through the world of contemporary art. While analyzing the motives and behavior of internationally operating collectors, it explains the current popularity of contemporary art and discloses the unwritten rules, active networks, and persistent myths of the rapidly expanding territory of art collecting. Collectors engage in ingenious ways with artists, galleries, museums, and auction houses while pursuing their passions and goals. Examining the attraction of collecting at large, its multifaceted social life, and the financial opportunities it seems to offer, this book also addresses how taste is formed and identifies possible radical shifts in the art system.

81
"Les galeries d'art contemporain à Paris. Une histoire culturelle du marché de l'art, 1944-1970"
Julie Verlaine
Editions de la Sorbonne, 2019 (first published: 2012)
A revised version of a doctoral thesis based on unpublished archives and abundant documentation, this work offers a cultural history of the Parisian art market after 1944. It explains the growing role taken by gallery owners in the discovery, promotion and consecration of contemporary artists. Adopting the point of view of Paris, it historically analyzes the loss of influence of France in the international recognition of contemporary creation, while showing how much the exchanges and circulations between the different metropolises intensify. (own translation)

82
"The Art Crowd"
Sophy Burnham
iUniverse, 2000 (first edition: David McKay, 1973)
Money and power in the contemporary art world of dealers, collectors, artists and museums. Funny, bitchy, insightful, revealing—The Art Crowd changed the way the art world did business.
83
"Collecting African American Art: Works on Paper and Canvas"
Halima Taha
Crown, 1998
Combining a rich and diverse blend of aesthetic traditions from Africa, the Caribbean, and America, African American art has emerged as the most actively collected art in the marketplace. This guide presents both emerging and established artists and identifies dealers throughout the nation specializing in the field. Insightful and accessible, it is the first book to define the role of the collector of African American art. The result is a unique and essential guide to developing a meaningful and rewarding collection.
84
"Art Markets and Digital Histories"
Claartje Rasterhoff and Sandra van Ginhoven (eds.)
Arts, MDPI AG, 2020
Digital art history or historical research facilitated by computer-technology in general is omnipresent in academia and increasingly supported by an infrastructure of seminars, workshops, networks, journals and other platforms for sharing results, exchanging notes and developing criticism. As the wealth of historical and contemporary data is rapidly expanding and digital technologies are becoming integral to research in the humanities and social sciences, the essays in this volume showcase different strategies that art market scholars employ to navigate and negotiate digital techniques and resources.
85
"The American Matisse: The Dealer, His Artists, His Collection"
Sabine Rewald and Magdalena Dabrowski
Metropolitan Museum of Art, 2010
In a career spanning over six decades, the New York art dealer Pierre Matisse (1900–1989) contributed substantially to the advancement of modern art. At his eponymous gallery on East Fifty-seventh Street, he showed several now legendary artists for the first time outside Europe. The collection—paintings, sculpture, and drawings by Balthus, Bonnard, Chagall, Derain, Dubuffet, Giacometti, Magritte, Miró, and the dealer's own father, Henri Matisse, among others—was donated to The Metropolitan Museum of Art in 2004 by the foundation established by his widow. These extraordinary artworks are presented with informative entries addressing the circumstances of each work's creation and the dealer's relationship to the artist.
86
"Collecting and Provenance: A Multidisciplinary Approach"
Jane Milosch and Nick Pearce
Rowman & Littlefield Publishers, 2019
This book promotes the study of the history of collecting and collections in all their variety through the lens of provenance, and explores the subject as a cross-disciplinary activity. Perhaps for the first time in a publication, it draws on expertise ranging from art history and anthropology, to natural history and law, looking at periods from antiquity through the 18th century and the Holocaust era to the present, and materials from Europe and the Americas to China and the Pacific. The issues raised are wide-ranging, touching on aspects of authenticity, cultural meaning and material transformation and economic and commercial drivers, as well as collector and object biography.
87
"The End of The Salon: Art and The State in the Early Third Republic"
Patricia Mainardi
Cambridge University Press, 1993
The End of the Salon: Art and the State in the Early Third Republic examines the cultural forces that contributed to the demise of the most important series of art exhibitions in nineteenth-century Europe and America. Tracing the history of the Salon from the French Revolution, when it was taken away from the Academy and opened to all artists, to its abandonment by the state in the 1880s, Patricia Mainardi shows that its contradictory purposes, as both didactic exhibition venue and art marketplace, resulted in its collapse. She situates the Salon within the shifting currents of art movements, from modern to traditional, and the evolving politics of the Third Republic, when France chose a republican over a monarchic form of government. This book provides a rich overview of art production during the final decades of the nineteenth century, government attitudes toward the arts in the early Third Republic, and the institution of exhibitions as they were redefined by free-market economics. The End of the Salon demonstrates how all artists were forced to function within the framework of the major social, economic, and cultural changes taking place in France during the nineteenth century and, as a result, how art history and social history are inextricably intertwined.
88
"Art Law and the Business of Art"
Martin Wilson
Edward Elgar Publishing, 2019
Art Law and the Business of Art is a comprehensive and practical guide to the application of UK law to transactions and disputes in the art world. Written by Martin Wilson, an art lawyer with over 20 years' experience in the field, it outlines and explains the relevant law and how the art business operates in practice, as well as offering a discussion of the most pressing ethical questions involving artworks.
89
"The Thannhauser Gallery: Marketing Van Gogh"
Stefan Koldehoff and Chris Stolwijk (eds.)
Yale University Press / Van Gogh Museum, 2017
While legend has it that Vincent van Gogh (1853-1890) sold only one work during his lifetime, it was not long after his death that sales of his paintings began to shatter auction house records. In this carefully researched book, leading Van Gogh scholars provide us with a glimpse into classified client files and illuminate the critical role that the Thannhauser Gallery occupied in cultivating and shaping an early clientele for the artist's works. Founded in Munich in 1909, the Thannhauser Gallery was Germany's preeminent promoter of the avant-garde in the decades before World War II. In other European cities and in New York, the business thrived, selling an impressive number of Van Gogh's oeuvre: roughly 110 works, including many masterpieces, now part of museum collections all over the world.
90
"Lost Art: Missing Artworks of the Twentieth Century"
Jennifer Mundy
Tate Publishing, 2013
Many assume that modern works of art are easily preserved; that their whereabouts can be readily established, thanks to sophisticated documentation sys¬tems; and that, in general, they are not subject to loss or destruction. But many important works have disappeared over the last century in a variety of ways, including war, theft, natural catastrophe, and carelessness. Most signifi¬cantly, loss itself has been a major theme within modern and contemporary art, with elements of transience central to the practice of many well-known figures. Grouped into 10 sections―Discarded, Missing, Rejected, Attacked, Destroyed, Erased, Ephemeral, Transient, Unrealized, and Stolen―this unique book surveys 40 case studies, looking at the stories behind lost works of art by artists such as Kandinsky, Miró, Kahlo, Christo, Keith Haring, and including Michael Landy's 2001 project Break Down, in which he systematically destroyed every one of his possessions himself.
91
"Art Worlds, 25th Anniversary Edition"
Howard S. Becker
University of California Press, 2008; first edition: 1982
This classic sociological examination of art as collective action explores the cooperative network of suppliers, performers, dealers, critics, and consumers who—along with the artist—"produce" a work of art. Howard S. Becker looks at the conventions essential to this operation and, prospectively, at the extent to which art is shaped by this collective activity. The book is thoroughly illustrated and updated with a new dialogue between Becker and eminent French sociologist Alain Pessin about the extended social system in which art is created, and with a new preface in which the author talks about his own process in creating this influential work.
92
"Edith Halpert, the Downtown Gallery, and the Rise of American Art"
Rebecca Shaykin
Yale University Press, 2019
For forty-plus years, Halpert's gallery brought recognition and market success to now-legendary American artists—among them Arthur Dove, Marsden Hartley, and Georgia O'Keeffe. She relentlessly championed nonwhite, female, and unknown artists and was a formative advisor in the shaping of many of the nation's most celebrated art museums and collections, from San Francisco to Boston. Not content with those achievements, she also pioneered the appreciation and collecting of American folk art. Richly illustrated with works that passed through her groundbreaking gallery, this book tells the extraordinary and largely overlooked story of her career and legacy.
93
"ABC for Collectors of American Contemporary Art"
John Baur
Downtown Gallery, 1954
An investor buys his stocks from a 'broker he can trust, a housewife her food from a reliable grocer, but a surprising number of intelligent people are lured into purchasing pictures from an itinerant peddler or the kind of cheap store that fills its windows with shoddy wares marked down to half 'the original price' and usually worth a good deal less. A collector must be very sure of his own knowledge and taste before venturing into the bargain basement of art, for this seldom produces anything but disappointment. (excerpt)
94
"Acquiring Cultures. Histories of World Art on Western Markets"
Bénédicte Savoy, Charlotte Guichard and Christine Howald (eds.)
De Gruyter, 2018
As more parts of the world outside Europe became accessible – and in the wake of social and technological developments in the 18th century – a growing number of exotic artefacts entered European markets. The markets for such objects thrived, while a collecting culture and museums emerged. This book provides insights into the methods and places of exchange, networks, prices, expertise, and valuation concepts, as well as the transfer and transport of these artefacts over 300 years and across four continents.
95
"The Art of Buying Art: How to evaluate and buy art like a professional collector"
Alan Bamberger
Robinson, 2018
The art world can appear impenetrable to the beginner. This classic book, in print since 1990, is an invaluable primer that will help anyone to penetrate the thickets of inscrutable 'insider info' and esoteric jargon. Updated for today's art market, including online buying, 'The Art of Buying Art' is without a doubt the most accessible book on how to research, evaluate, price and buy artworks—for anyone who wants to buy art. No previous knowledge of art or the art business is necessary.
96
"Art i vida a Barcelona. Memòries 1911-1996"
Elvira Farreras & Joan Gaspar
Edicions La Campana, 1997
This book, published in 1997 and edited by Antoni Ribas, collects the memories of Gaspar and his wife's, offering a rich social and artistic account of the Barcelona's cultural life for almost a century. "Joan Gaspar and Elvira Farreras have formed a marriage that has lived Barcelona in depth, but they have added an exceptional merit to their career: they have given life to Barcelona. The Sala Gaspar has been the most visible and brilliant platform for a tireless struggle for art, along which there are unrepeatable milestones. But Elvira Farreras and Joan Gaspar have also been linked to the most diverse cultural and social activities, and this has made them privileged witnesses of almost a century of history." (own translation)
97
"Auctioneers Who Made Art History"
Dirk Boll (eds.)
Hatje Cantz, 2014
Auction houses have become dominant avenues of distribution, as have art fairs, galleries and art dealers. Even today the ritual dramaturgy of the auction resembles an archaic competition, captivating participants and bystanders. At the center of the action is the auctioneer, whose performance is increasingly critical to the success of the auction. This volume tells the story of the art auction business through portraits of auctioneers. Key events in cities such as New York, Paris, Zurich, Berlin, Stuttgart and Pompeii come alive, and show how the auctioneer is emerging from the anonymity of a service provider and stepping into the limelight as a star of the show.
98
"Plundering Beauty: A History of Art Crime during War"
Arthur Tompkins
Lund Humphries, 2018
The roll-call of wars down the centuries is paralleled by an equally extensive narrative of the theft, destruction, plundering, displacement and concealing of some of the greatest works of art during those conflicts—a story that is expertly told in this original publication. (…) Plundering Beauty: A History of Art Crime during War charts the crucial milestones of art crimes spanning two thousand years. The works of art involved have fascinating stories to tell, as civilisation moves from a simple and brutal 'winner takes it all' attitude to the spoils of war, to contemporary understanding, and commitment to, the idea that our artistic heritage truly belongs to all humankind.
99
"The Economics of Taste"
Gerald Reitlinger
Barrie and Rockliffe, 1961–1970
(three volumes)
"How fascinating the price of pictures has become in this humdrum world. But in fact there has been a peculiar fascination in the price of pictures since the early sixteenth century. At a time when painters still charged a fixed rate for the job, as if they were making a pair of shoes, certain paintings began to acquire a prestige value. They were painted, not into the plaster of walls but on portable panels or canvases in order that their owners might trade them, if need be. Sometimes fantasy prices were paid by princes and cardinals, just to show that they were princes and cardinals, like Arab khalifs who filled the mouths of poets with gold. But quite often high prices were reached, because two or three magnates wanted the same picture. By the time that the collecting of pictures of the past as well as the present reached England, that is to say a hundred years later, in the reign of James I, there was already an international market." (excerpt)
100
"Souvenirs d'un marchand de tableaux"
Ambroise Vollard
Albin Michel, 1937
Celebrity, art merchant, socialite, publisher, and writer, Ambroise Vollard (1867–1939) was one of the most extraordinary figures in 20th-century art. He possessed an uncanny ability to recognize genius in painters—dozens of important artists received valuable commissions and gallery space with his help, and his galleries presented the first one-man shows for such luminaries as Matisse, Cézanne, and Picasso. Vollard's warmth, candor, and intelligence earned him the friendship of a generation of artists and make this memoir an enthralling and often hilarious account of an exciting Golden Age of painting. (back cover, Dover edition, 2003)
 101
"Goering's Man in Paris: The Story of a Nazi Art Plunderer and His World"
Jonathan Petropoulos
Yale University Press, 2021
Bruno Lohse (1911–2007) was one of the most notorious art plunderers in history. Appointed by Hermann Göring to Hitler's art looting agency in Paris, he went on to help supervise the systematic theft and distribution of more than thirty thousand artworks, taken largely from French Jews, and to assist Göring in amassing an enormous private art collection. By the 1950s Lohse was officially denazified but was back in the art dealing world, offering masterpieces of dubious origin to American museums." After his death, dozens of paintings by Renoir, Monet, and Pissarro, among others, were found in his Zurich bank vault and adorning the walls of his Munich home. Jonathan Petropoulos spent nearly a decade interviewing Lohse and continues to serve as an expert witness for Holocaust restitution cases. Here he tells the story of Lohse's life, offering a critical examination of the postwar art world.

102
"Le marché de l'art sous l'occupation"
Emmanuelle Polack
Editions Tallandier, 2019
Under the Occupation, the art market in France was flourishing. Until 1944, all property belonging to Jewish families was systematically seized. The products of this looting are the thousands of paintings, sculptures, works of art and rare furniture. Destined for the Hitler museum in Linz or for the Goering collection, certain modern so-called "degenerate" works are being auctioned off at the Hôtel Drout. Gallerists, antique dealers, merchants, experts, individuals and all kinds of intermediaries working for the Germans come there to acquire at low prices canvases which they can only suspect have been stolen. (back cover, own translation from French)

103
"Tales from the Art Crypt: The Painters, the Museums, the Curators, the Collectors, the Auctions, the Art"
Richard Feigen
Knopf, 2000
From one of today's most influential art collectors and dealers: a lively, revealing, sometimes blasphemous, always knowing look into the world of art. Richard Feigen's fifty years in the art world have given him a unique perspective on its inhabitants and habits. He writes about the painters he has known and represented (among them James Rosenquist, Jasper Johns, Jean Dubuffet, and Joseph Cornell), and about others whose work he has collected. He writes about his galleries in Chicago and New York City, and about his fellow dealers, including Julien Levy and Leo Castelli. He talks about the "eye" that allows a dealer to recognize a fine painting. He discusses the great art-owning families, art historians, scholars, and conservators.